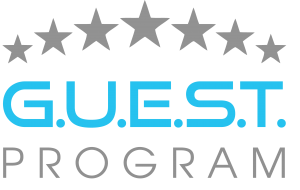 GUEST is the ONLY Internationally Accredited Maritime Hospitality Program available to crew working in the luxury superyacht sectors.
The GUEST Program took 5 years to design and develop and it
continues to grow and develop. It's constantly reviewed, updated and re-designed through the
IAMI Maritime Hospitality Sub Group
, to ensure crew are appropriately trained so as to meet guests and owners' expectations.
The IAMI provides a platform for an exchange of views between colleges as well as a communication channel between the colleges and various national bodies involved in the training and certification process. The Association is on the consultation list of the Maritime and Coastguard Agency (MCA) of the Department of the Environment, Transport and the Regions, the UK regulatory body for marine matters. Its members are frequently in touch regarding day-to-day practicalities and future developments.
Warsash Maritime School has provided first class maritime education, training and consultancy to the maritime and offshore industries for over 70 years. Is the only maritime training centre of its kind in the world. They offer over 150 accredited deck, engineering, interior, maritime and offshore safety training courses, approved by the MCA, MNTB, OPITO, SIGTTO, SQA, and other awarding bodies. They are a partner of Solent University.
The QPR Institute's mission is to save lives and reduce suicidal behaviours by providing innovative, practical and proven suicide prevention training. They believe that quality education empowers all people, regardless of their background, to make a positive difference in the life of someone they know.
Highfield Qualifications is a global leader in compliance and work-based learning and apprenticeship qualifications and one of the UK's most recognisable awarding organisations. As an awarding organisation they have developed 250+ qualifications designed to enhance the career prospects of learners. These qualifications are delivered by over 20,000 trainers and training providers spread across 50 countries and cover multiple sectors.
Aviem understands that a crisis or disaster resulting in trauma or loss of life can happen to any company, its customers, employees or their families. While such events may be unavoidable, businesses have a choice in how to respond—if they are well-prepared to do the right thing. Helping organisations prepare and respond is what Aviem is all about.